Popple Creek Candle Company is a welcome addition to our Northern Lights location in downtown Phillips, WI. The small kiosk-like area in the Northern Lights building displays our candle products and much more.
All of the candles that we have for sale are made by us.
We offer two sizes of jar candles, smaller container candles, votives, tealights, and pixies (wax melts). We use only a top-quality palm-oil/paraffin blend wax* and ALL of our products are double-scented for an exceptional fragrance experience.
***
We have over 1000 candle products on display at any given time so be sure to stop and browse. The jar candles are pint and half-pint containers, our specialty container candles are quarter pint, the votives are premium sized and you can buy one or a mix of different scents.
The large tealights are sold by the dozen and come either as unscented (for warmers) or scented. We also have a two dozen size bag of mini-tealights (unscented) used for shorter burns. Our pixies (wax melts) are sold in bags of a dozen and like our votives and tealights are available in every fragrance we offer.
***
In addtion to our line of candles we also stock a wide assortment of candle accessories which includes but is not limited to votive holders, tealight holders, tealight warmers, wick dippers and trimmers. We also have a fun assortment of "northwoods type" signs for your home or cabin.
***
Most importantly - our first goal was and continues to be - to produce a quality candle and secondly to then keep all of our products affordable.
***
Please let us know if there is a product or fragrance that you'd like to see us add to our product line. We currently have 29 fragrances and growing - our newest are Apple Lodge, an apple aroma blended with cinnamon and spice; Blossoms, our choice for a true lavender scent; and Sandbar, the fresh fragrance of bayberry. See all of our choices listed below.
Sincerely,
Chuck & Dawn Hahn
**********************************************************
We now accept all major credit cards at our Lake Avenue location..
*******************************************
For mail-order pricing on all our products to be mailed directly to you - please contact us at hahnmn@gmail.com
**************************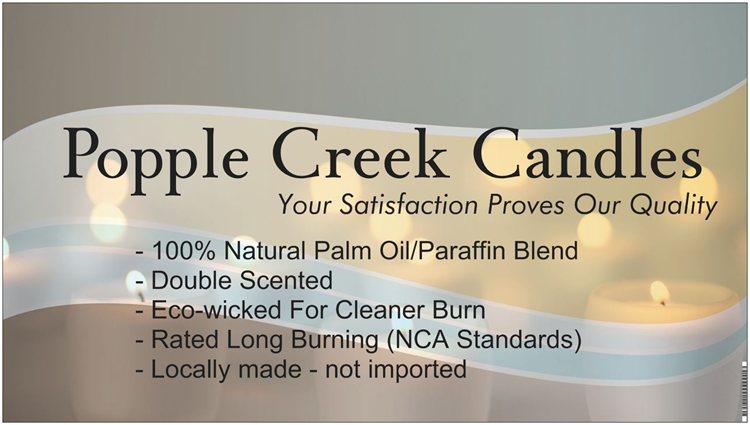 *Fun Facts: Soy vs. Paraffin
Popple Creek Candles are made with only 100% pure food-grade paraffin. We made soy candles - we switched.
Paraffin wax is refined from naturally-occurring crude oil, the product of animal and vegetable matter that has been locked inside the Earth for thousands of years and refined into more useable products including fabrics, plastics, etc. Virtually all of Popple Creek's paraffin is domestically-produced.
Soy wax is vegetable matter made from the oil of soybeans. A hydrogenation process converts some of the fatty acids in the oil from unsaturated to a saturated form. This chemically alters the melting point of the oil, making it a solid at room temperature. Most soy wax that is used for candles is not made in the United States; it is imported.
The National Candle Association has thoroughly researched the soy vs. paraffin topic and provides the following statements:
"All waxes are primarily hydrocarbons, whether of animal, vegetable, or petroleum origin. The chemical composition of all waxes is similar, and all candle waxes burn in the same manner.
No specific type of wax or wax blend is considered "best" for candle making. All waxes - when provided in high-quality format - have been shown to burn cleanly, safely and in the same manner.
No candle wax has ever been shown to be toxic or harmful to human health.
There is no such thing as a soot-free wax."
In the end, both paraffin wax and soy wax are both good choices for candle wax. Neither is more "environmentally friendly" than the other, and there has never been any scientific evidence that paraffin wax is harmful to your health in any way at all. It's a personal choice, and naturally, we hope you'll choose Popple Creek Candles!
Our Fragrances As Of June,2013
Apple Lodge:
Succulent ripe apples are baked to perfection and dashed with cinnamon and spice. A wonderfully warm fragrance .
Appletime:
Wow! This is the most awesome green apple you'll ever smell! Very strong, you'll think someone just cut up a Granny Smith!
BerryFest:
A heartier scent than your average cherry...dark & full bodied.
Blossoms:
Very true herbal Lavender, incredibly strong.
Blueberry Inn:
Blueberry with a touch of vanilla and cinnamon, giving the fragrance a baked cobbler type smell to it.
Buttery Scotch:
Melt-in-your-mouth, smooth & sweet... a childhood taste turned aroma!
Cinnabun:
Wow! Head to the nearest mall and get a fresh, warm cinnamon sticky bun drizzled with sweet white frosting, and you'll have this scent!
Fruit Slices:
The is a fruity citrus with strawberries, grapefruit and orange tangerine.
Girls Night Out:
A perfect blend bursting with the natural flavor of black raspberries, strawberries, blueberries, red raspberries, cranberries, and even cherries! Herbs like hibiscus, rosehips, and chicory give this tea its zing!
Hot Cinnamon:
This vibrant blend of spicy cinnamon and zesty citrus will really get you going! Undertones of fresh carnation with a touch of clove are a nice balance to this red-hot fragrance.
Jasmine:
These small, white night blooming flowers produce an intoxicatingly romantic fragrance.
Manilla Vanilla:
A warm blend of vanilla and walnuts makes for an inviting and comforting aroma.
Melon Delight:
This is a classic favorite and always a good seller. Lightly sweet and juicy.
Mosquito Beater:
Citronella is a lemony scent commonly used to repel insects. A great outdoors scent for summer!
Northwoods:
The fresh scent of pine and clove
.
Oh Yes:
Sweet, exotic fruit.One of our most popular fragrances.
Pantry Fresh:
Take comfort in the aroma of sweet, warm, homemade bread fresh out of the oven! Our traditional recipe includes warm milk, white sugar & flour, eggs, vanilla, cinnamon, raisins & nuts.
Peninsula Dream:
The soothingly cool, refreshing smell of the eucalyptus plant. Like breathing in fresh green air!
Ribbons & Bows:
So true to the first, fresh & gentle scent ever put on baby! This soft powdery scent makes a perfect fragrance for kids, teens or the mommy-to-be!
Rocky Run:
Warm vanilla, buttered rum and sensual sandalwood are combined with accents of allspice in this comforting scent.
Sandbar:
Bayberry is a classic fresh fragrance, popular for any season.
Snackers:
Wow! This one is a winner. You can smell the icing, the cinnamon, and the molasses, the sweetness of raisins with a hint of brown sugar. We're not sure what this cookie is exactly, but it's definitely wonderful!!
Summer Rain:
Dewy raindrop accords mingle with blooming cyclamen and sheer freesia. Exotic water lotus petals drift atop day lilies and white rose buds softly landing on tender violets and cashmere musk.
Sweet Dreams:
Sweet, aromatic springtime floral.
Sweet Spirit:
You know that clean laundry smell after you just take your clothes out of the dryer? This is it
Vanilla Beach:
Can you make vanilla any more "homey"? We did! Sweet vanilla with just the right touch of warm spice...very nice!
Vanilla Velvet:
Our original "Vanilla Velvet™ " has been proclaimed the best vanilla around. Very warm, rich, sweet, high powered vanilla... a definite must try!